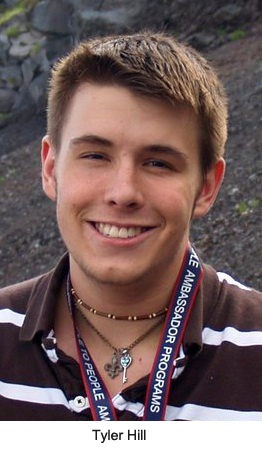 Walking on Sunshine, by Sheryl Hill, is named after the song Walking on Sunshine by Katrina and the Waves. Tyler Hill, the author's son, died a preventable death on a People to People Student Ambassador Trip to Japan in 2007. He had just turned sixteen.  Walking on Sunshine is a 2013 USA Book News Spiritual Memoir Finalist.
Tyler was diagnosed with Type I diabetes at age 5.  He was a spokesperson and poster child for diabetes.   An A honors student, he lived an exceptional diabetes life because of Functional Insulin Treatment, Group Education and Rehabilitation (FIT therapy) by Professor Kinga Howorka, MD, University of Vienna;  and his diabetes care team at the International Diabetes Center who supported his lifestyle choices.  Tyler's diabetes medical record describes his diabetes management as extremely excellent.  He did not suffer from diabetes.  He was not 'diabetic'.  He was a vibrant teen who mastered diabetes.  He reached out to others with his humble personality and big heart.  He grew to 6'2″ and 215 lbs.  He wore a size 14 shoe.  At age 15 he was voted MVP on a U19 rugby team – his first year.  He died full of his future.
Kids on Ty's tour in Japan came to his memorial service on July 5th wearing tee shirts imprinted with "Walking on Sunshine R.I.P. Tyler Hill." The day before Tyler's heart stopped, he hiked up Mt. Fuji as he sang, "Walking on Sunshine. I feel the love. I feel the love. I feel the love that's really real. I'm Walking on Sunshine. Oh, Oh! And don't it feel good!"
In uncanny ways, Tyler's glorious soul sends messages to confirm again and again that – He feels the love that's really real. Love never dies. Energy can neither be created nor destroyed only transformed. Every ending is a new beginning. We live forever.
Sheryl learned about Merkabah, soul light vehicles, in a book of Tyler's. The author calls Tyler's book his 'spirit book'. Spooky stuff could freak Tyler out. It was unusual for Tyler to have a book like this. Ty's spirit book kept falling off the bed or dresser, opening to pages about energy and Merkabah, soul light vehicles or chariots. Merkabah began brilliantly appearing in Sheryl's life a few weeks later. Photos of them appear in her book.
Walking on Sunshine – NRG is a bold telling about her conscious awakening, spiritual growth and affirmations on a quest for understanding and wisdom after her first born son, Tyler, died. This growth challenged her religious upbringing. She opens her soul in her book to bring promise and hope to everyone grieving over the death of a loved one.
She did not lose Tyler. She knows where he is.
Your purchase benefits ClearCauseTM – Safe Global Youth Travel.

[fb-like-button]