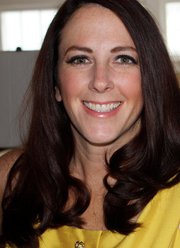 A naturally gifted medium, Mollie uses her abilities to bring forth evidence that proves your deceased loved ones are "alive" in Spirit, aware of your life situation, and sending you their loving support and inspiration.
During grief, it is helpful to recognize life as a cycle of blooming and resting. Once in Spirit, we are able to bloom again. Mollie's gift as a medium is to intimately communicate with deceased loved ones, alive in Spirit, bringing forth all of their love, personality and healing messages so that you, too, can blossom again and enjoy the most abundant life possible right now.
Those you love in the light want you to be happy and joyful. Mollie can help you soothe grief and acquire that peace to move forward knowing they are always with us.
Author Sheryl Hill had a very happy celebration with her family members who have passed, her sister-in-law, nephew, mother and father, and her beloved son Tyler. They all celebrated the connection and offered encouraging advice and a delightful 'surprise' for the best Mother's Day ever…and it was.